The Gemtech MK9K uses a coaxial design. In the picture below you can see ports in front of the blast baffle. This diverts gas to the outer tube. This allows for a shorter design (although fatter). I have several MK9K's. The one pictured below is a cloned core where the inner tube is beefed up around the ported area. Gemtech later did the same thing in their MK9K's before being acquired by S&W. I had an MK9K shear apart at the ports when fired from a full auto Micro UZI.
Anyways, I tried moving the beefed up core to a different MK9K tube that was used with a non-beefed up core and there was so much build up that the beefed up core couldn't fit in that tube.
The build up was rock hard and the tube is made from aluminum so I was hesitant to use any harsh chemicals…especially letting it soak for a long period of time and not checking on it and possibly forgetting about it. Pictured below you can see scratches from me trying to scrape off the build up with screwdriver and I also resorted to a sanding drum on a Dremel.
YES. I KNOW YOU SHOULD NOT PUT ALUMINUM IN CLR – but I was about to jack it up anyways so I tried it and was really impressed on how it worked out.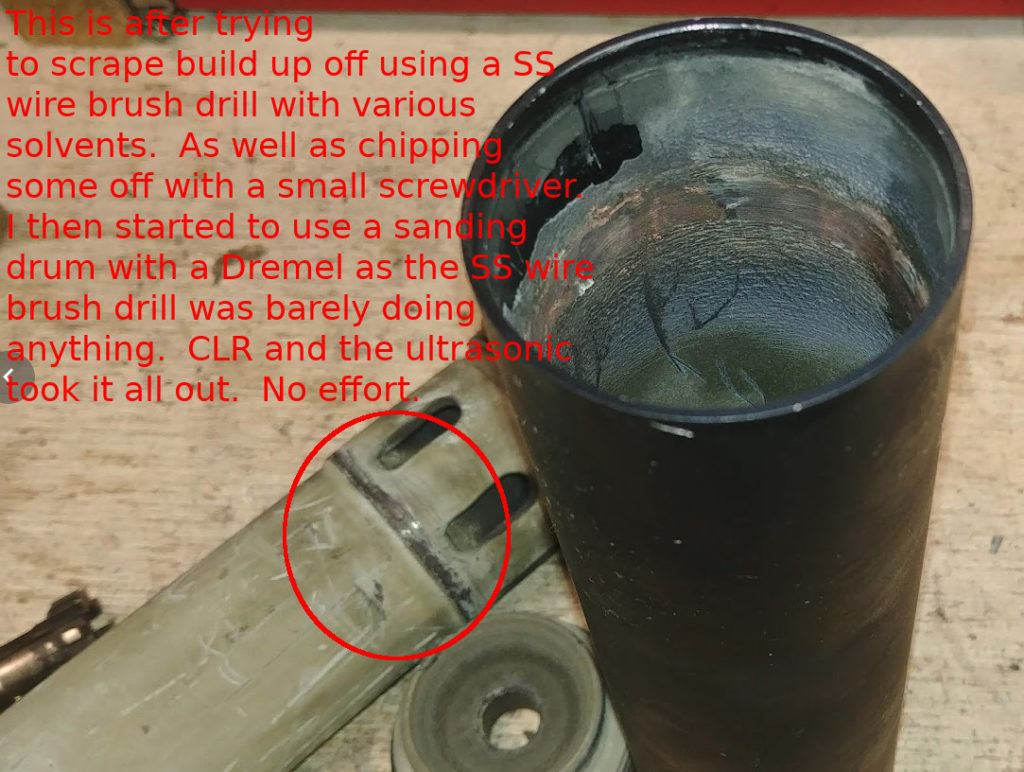 So I decided to put it in my ultrasonic tank that was already running with CLR in it cleaning SS baffles. (BTW, I'm using the CLR full strength – no diluting with anything). When I put the tube in the tank, you could see it fizzing immediately like alka seltzer eating away at the build up. I was concerned it would remove the annodizing and so kept a close eye on it. I would pull the tube from the tank every 10 minutes for an hour. Each time I pulled the tube from the tank, I would use a shop towel and wipe away the build up till wiping wasn't productive and put the tube back in the tank. After an hour, it was totally clean.
Pictured below you can see how clean that area is after the CLR it stripped the fouling down to the anodizing.
Picture below of outer tube shows anodizing completely intact with no apparent damage from the Ultrasonic / CLR cleaning.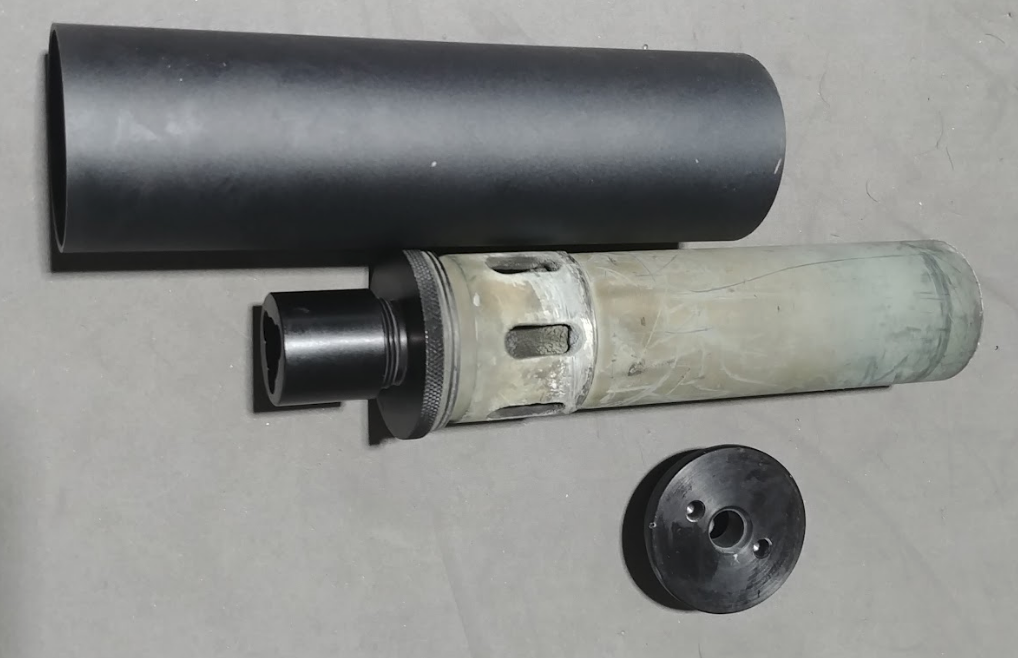 Picture below shows the SS expansion tube that is fouled so that I couldn't remove it from the first blast baffle.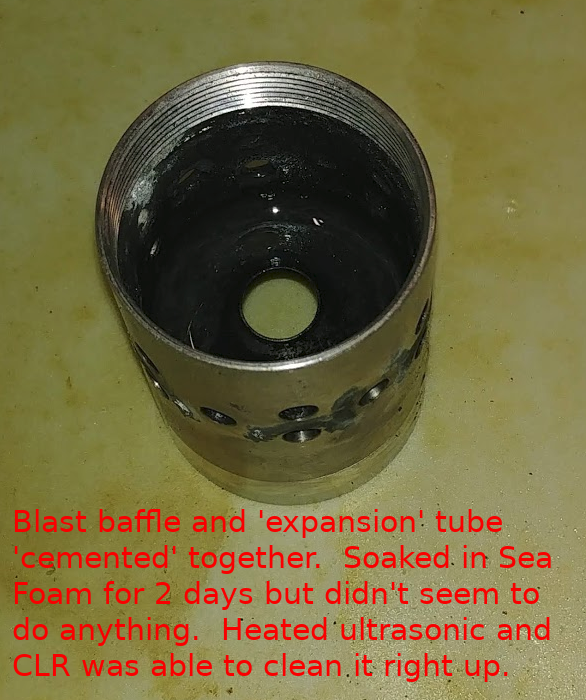 Pictured below is after cleaning in the ultrasonic with CLR and reassembled.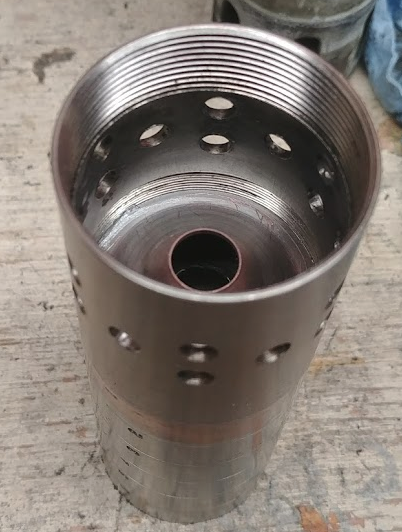 Now, I really didn't want to go through all this again for a long time. A friend of mine sent me this link regarding suppressor cleaning: http://web.archive.org/web/20161104063835/http://www.rrdvegas.com/silencer-cleaning.html
The author of that link was using a tumbler with stainless pins. I was considering that too but others have posted to be careful if you have baffles with sharp edges and since my conical baffles are kind of sharp, I decided to stick with using the CLR as it worked great for me and also recommended by the manufacturer of my custom stack pictured above by Joe at Curtis Tactical.
While I wasn't using the cleaning method by the author of the link above, I am using his preventative method of using silicone oil so the crud just wipes off.
After cleaning, he would then soak the baffles in mineral oil to remove any oils etc then air dry them. Then put them in the oven at 250 degrees then dunk them in silicone oil. Brake fluid was a cheap source but he said the best was to use pure silicone oil, 350 cst. I got this stuff from Amazon: https://www.amazon.com/gp/product/B06XYYWFYY/ref=ppx_yo_dt_b_asin_title_o00_s00?ie=UTF8&psc=1
This has been working well for me.
However, I didn't want to go through that preventative process for the anodized aluminum tube of my MK9K and like designs. The tube is not threaded in this design and there is space between the baffle stack and the inside of the tube. So I got .005″ SS shim stock to prevent crud from hitting the inside of my aluminum tube.

Here is another angle of what it looks like: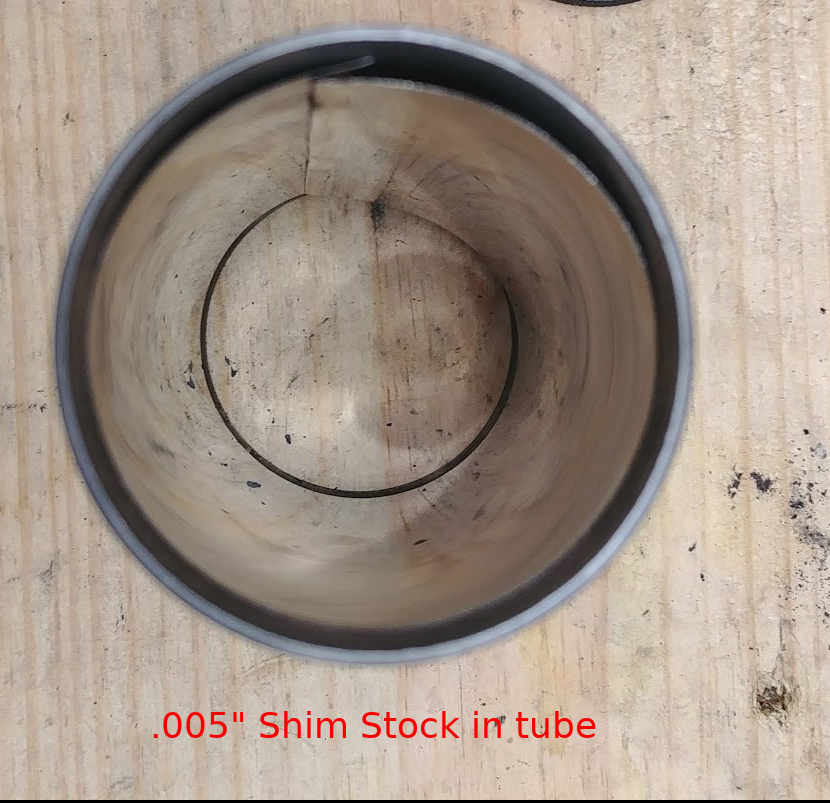 Picture below shows what the shim stock looks like after firing some rounds. Almost looks like spot welds from being blasted at the ports. This has worked out very well. I can now put the shim stock in the ultrasonic cleaner or worst case just trash it and cut another piece.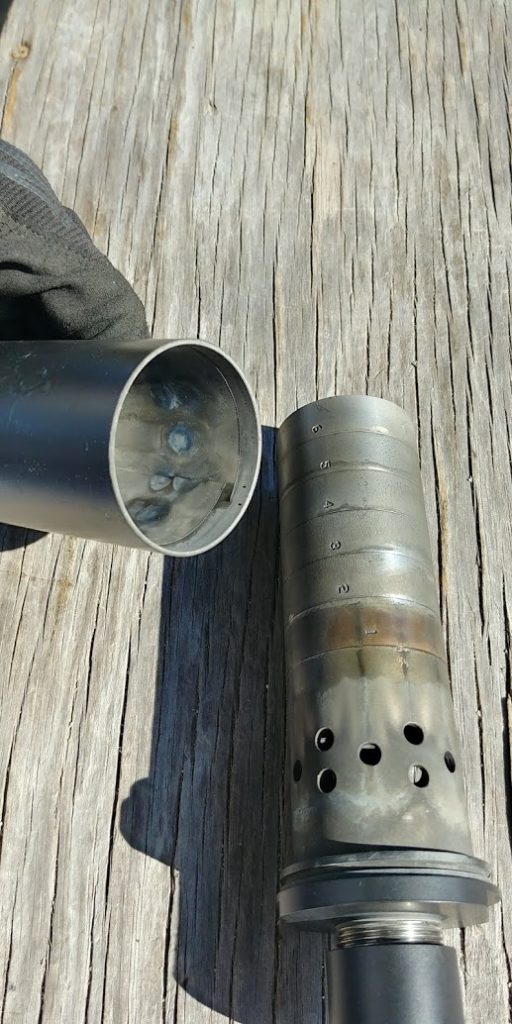 Pictured below is my old Gemtech Hornet which was designed to be a high volume 22LR SMG can….capable of handling FA fire from an AM180 but was never fully serviceable.
On the left you can see the baffles were laser welded together. I tried soaking the stack in Ed's Red for over a month with no improvement. Also put in my heated ultrasonic cleaner with various solutions with no improvement. I finally had Curtis Tactical cut the baffles apart so I could finally clean them properly.