I initially had Curtis Tactical make me a custom 'Bixler' 3 lug mount for my shorty hybrid MK9K clone now marketed as the CT9KS which is detailed here: https://c3junkie.com/?page_id=244
I also explain the 'Bixler' mount vs the more commonly seen spring loaded 'Latka' mount here: https://c3junkie.com/?page_id=553
I have several old suppressors I don't use much anymore. Two of them share the same thread pattern:
SWR GSG40 – (40SW). – It originally came with a booster installed and I removed and run it with a direct thread mount on a .40SW Beretta
Gemtech Blackside – (.45ACP). It originally came with direct thread mount that I used to run on an HK USP in .45ACP that I use on both suppressors.
I've been running my SWR GSG40 on my CMMG RDB in full auto with an 8″ barrel but with the direct thread mount and it loosens up during stages.
I purchased some of the Griffin Armament 3 lug mounts (barrel side to put on several hosts) and one of their mounts thinking maybe I could get an adapter made to breath some life into these old cans.
On the top is the Bixler mount in the SWR GSG40.
On the bottom is the Gemtech Blackside.
'CT' – denotes that part made by Curtis Tactical
'GA' – denotes that part made by Griffin Armament
Notice the smaller diameter of the CT 'Bixler' nut.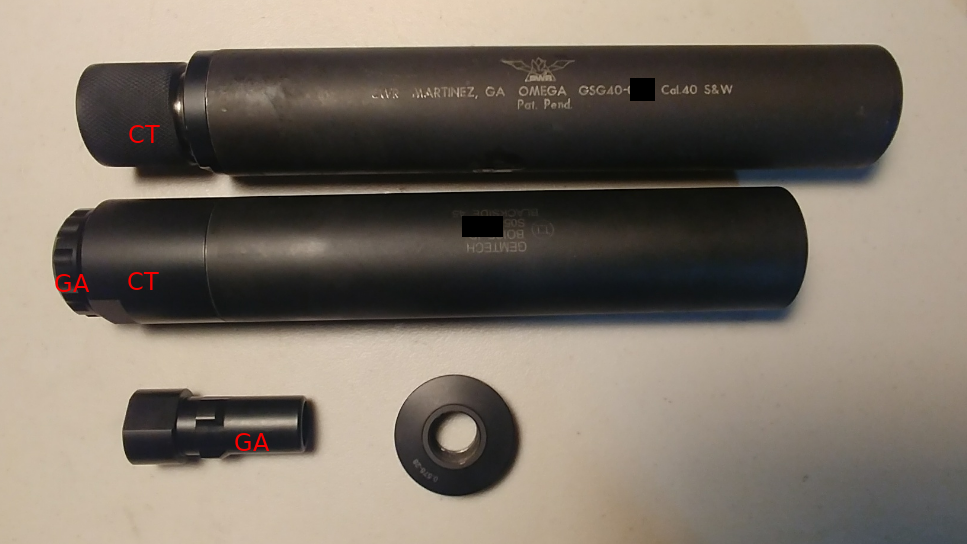 Diameter of the Bixler nut for 9/40/45 applications are all the same even though the .40/.45 specific 3 lug is larger than 9mm.
Pictures below show how using the smaller diameter Curtis Tactical Bixler mount allows it to work with smaller diameter rails with no mods.